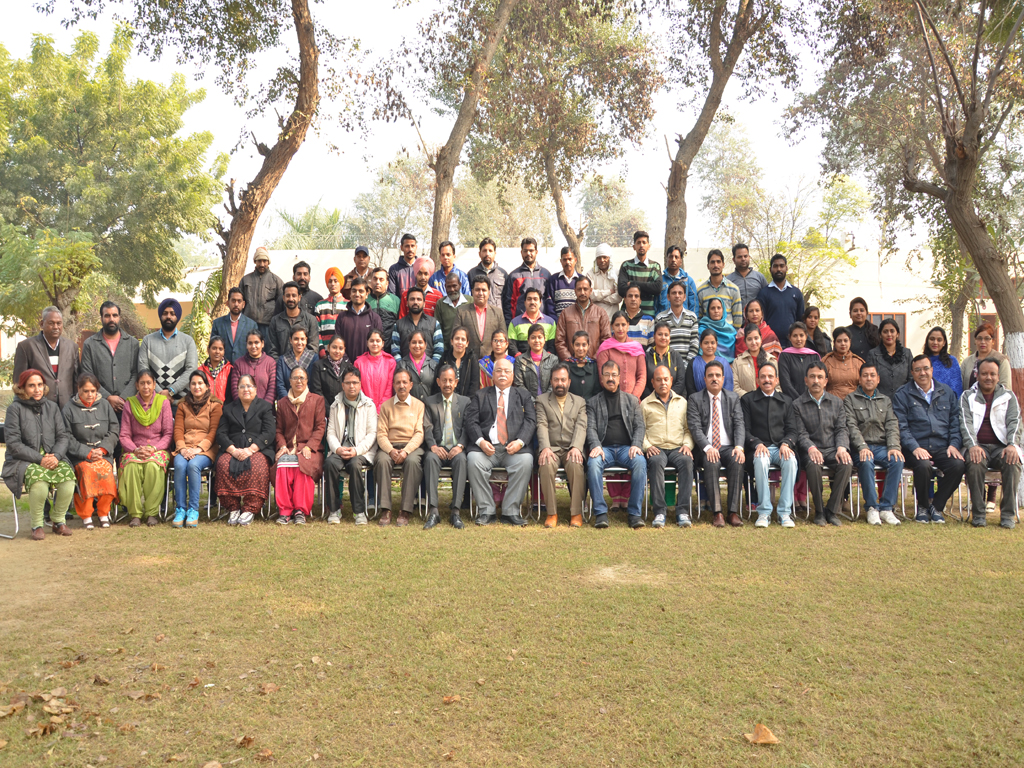 D.A.V. College, Malout
D.A.V. College, Malout is one of the links in the beautiful chain of educational institutions established in the sacred memory of the great social and religious reformer of all times, Maharishi Dayanand Ji Sarswati. The D.A.V. Movement, initiated in 1886 by Arya Samaj, envisages to carry forward the torch of imparting real education and to inculcate love for Indian culture in tune with the lofty Vedic ideals of universal brotherhood among the young minds. The movement is goverened by the D.A.V. College Trust & Management Society, New Delhi. Self sacrificing Mahatma Hans Raj, a humble devotee of Great Rishi, provided the necessary impetus to the movement by taking a solemn pledge to dedicate the whole of his life for the sacred cause of spreading the light of education, service and renunciation.
Malout Mandi (New) came into existence on 19th January 1920. D.A.V. College, Malout was established in the year 1968 on 22 acres of land which was denoted by Edward Ganj Public Welfare Society to D.A.V. organization to establish a college. It was originally called National college. It has attained an envious position in academic sports, and co-curricular activities. The college owes its origin to the Edward Ganj Society and the local public. Rupees Five lakhs were contributed by the local public in the sweet memory of Swami Dayanand. This is the fifth DAV college in the State. Principal (Dr.) D.S. Gupt was appointed as the founder Principal in 1968 who served upto 1970 ; followed by Principal Sh. P.L. Trakru (1970 to 1987) ; Principal Sh. S.C. Khosla (1987 to 1997) ; Principal (Dr.) R.P. Dhand (1997 to 1999) ; Officiating Principal Sh. R.L. Girdhar (1999 to 2000) ;Principal (Dr.) S.K. Kohli (2000 to 2006) ; Officiating Principal Sh. R.L. Girdhar (2006) ; Principal (Dr.) Ravinder Talwar (2006 to 2008) ; Officiating Principal Baljeet Singh Bhullar (2008 to 2012). Shri Krishan Kumar Chhabra is the Chairman of the local Committee of the College. The College was granted affiliation for Degree Classes by Panjab University, Chandigarh. UGC has also granted approval under Section 2F of UGC Act 1956.
Under the seasoned and experienced guidance, inspiration and motivation of the enlightened DAVCMC and the local committee, the college has now fully blossomed and has created a niche for its academic cultural and sports achievements. The college provides education in B.A., B.Com., B.Sc. (Medical), B.Sc. (Non-Medical), BCA & PGDCA. In just 47 years of its existence, the college has earned for itself name and fame in the field of education. It has been showing excellent results since its inception.
The college serves as a Home Away From Home to the talented and the gifted, to those with a passion and commitment, and to those who have the will to show the path, help you to overcome difficulties, and celebrate the moment when success embraces. We also believe in making students understand the importance of carrying the torch and lending the helping hand in the most adverse circumstances and also realize that although survival belongs to the fittest, competition does not imply success to the one only. Albeit, the position at the pinnacle is precarious, it is large enough to accommodate one and all.
It is our firm belief that value based learning has far greater relevance in a dynamic and ever changing work environment. We ensure that our students share a very special relationship with the institution, easy accessibility to faculty guidance, firm assurance of staff support and a very caring and nurturing environment, all lead to effective realization of our goals. Our mission is to demonstrate an unconditional commitment to learning, to openness, mutual trust and faith.
MAIN CAMPUS
The Administrative Wing, Boys Wing, Seth Resham Lal Galhotra "Mahila Vibhag" and the complete Science Faculty with well equipped laboratories, Computer Applications Dept., Library with the latest amenities, and modern canteen are the main segments of the Campus. D.A.V. College Malout covers an area of nearly 22 acres on village Sheikhu Road. Besides this, there are major play-fields, multipurpose hall with indoor-games and a stage for different functions. A Girls Common Room in Mahila Vibhag is the attraction of the entire Mahila wing. Lush-green lawns with ornamental plants/trees create an atmosphere really conducive to academic achievements.
VISION, MISSION & OBJECTIVES
The vision, mission and objectives of our College are amply reflected in the DAV Organisations 'motto ? Tamaso Ma Jyotirgamya "Lead me, from darkness to light" (Brihadaranyaka Upanishad, Chandigarh 01-03-28). This prayer from the Upanishad shapes the vision of our institution and it guides us in our quest for excellence. Our College is doing an excellent job in producing enlightened human beings. A great number of them are imparting their invaluable service to society.
OUR VISION
To impart education that will groom students to become responsible global citizens, while retaining their Vedic values, Indian philosophy and ethos, we aim at turning our institution into a hub of intellectual activism, and are committed to promote an array of accessible, affordable, responsive and high quality education totally in gear with the needs of challenging world. We have a vision to contribute to the growth of education and upholding the highest ethical and professional standards. To ensure that our students inculcate a sense of duty and discipline. To serve society, to lead to its enrichment and advancement. To open all avenues to suit the needs, requirements and ambitions of every student joining this college. To shape a students growth physically, morally and intellectually. To focus on overall personality development, keeping in view the tough competition prevailing in the world today and enable them to face the challenges of the modern era. To focus not only on course curriculum but practical approach as well so that students become productive right from the day of joining any organization after successful completion of their respective courses of study.
OUR MISSION
D.A.V College has a mission to emerge as a centre of excellence for professional studies, research and development and quality placements. To ensure placement of students of all courses and strengthen our students on the front of employability, practicability and social sensitivity and make our students practical oriented professionals. To focus on conjoining practical knowledge with theoretical aspect and provide thoroughly proficient and dedicated professionals. To lay stress on research, creativity and innovation. To incorporate and integrate value education within professional courses so as to create empathetic professionals. To provide quality education along with preparing the employable young minds to face the competitive world on all fronts.
OUR OBJECTIVES
To strive for excellence in teaching-learning process, all-round development of the students.
To generate equal opportunities for economically backward and socially deprived students especially for girl students.
To establish interaction and collaborate with industry and strengthen community network.
To develop research culture among the staff and students.
To create social awareness through NCC and NSS activities.
OUR PHILOSOPHY
The philosophy of DAV is inherent in its very name. Anglo stands for modern scientific knowledge whereas Dayanand and Vedic symbolize time honoured Eastern Wisdom. The DAV aims at blending the best in modernity and the best in the Indian traditions and heritage.
OUR COLLEGE COMMITTEE
The college functions directly under the supervision and control of D.A.V. College Managing Committee, New Delhi which was founded in 1885 by a group of dedicated and enlightened persons having staunch belief on Indian Philosophy, Culture and Heritage. These selfless workers were keen to fulfill the mission of Maharishi Dayanand Saraswati, who cherished a vision of rebuilding the human society at various levels-moral, intellectual, and spiritual. The D.A.V. College Managing Committee is the largest Non-Governmental organization having more than 770 institutions of learning in addition to developing three DAV Universities engaged in the promotion of purposeful education not only in the country but abroad also. With the glorious past, the name D.A.V. becomes synonymous with quality education.
D.A.V. institutions function under the able guidance of Honble President, Shri Punam Suri ji, Dr. S.K. Sama (Vice-President), Sh. R.S. Sharma (General Secretary), Sh. Ravinder Kumar (Secretary), Sh. Mahesh Chopra (Hony. Treasurer), Sh. Satish Sharma, Director (Colleges), and other dignitaries have provided impetus to the Education. We bank upon the benevolence of philanthropists for its further development.